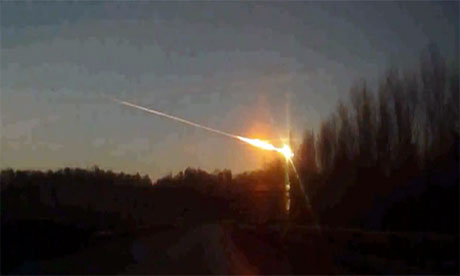 We're all doomed.
This was a pretty crazy week. A lot happened that just doesn't make any sense.The Pope resigned, saying he's old and tired, when really the Vatican is bleeding money from the sex abuse scandals and the subsequent cover up he's been involved in for decades, wasn't even mentioned by him. But we all know that's what's going on.
Surprise! A meteor hit Russia who knew? Are you really going to tell me that the US or Russia didn't know that a meteor broke into our atmosphere and had no idea where it was going or where it would hit? What the hell use is NASA if they can't see objects like this hitting the earth? Unless of course they knew about it all along and just didn't tell anyone. No heads up for you Russia!
Oh yeah and Warren Buffet likes ketchup so much that he bought Heinz and then the SEC decides to freeze some Swiss Bank accounts for having suspicious insider trading
activity
, get out, seriously? What exactly will the SEC do? The SEC has not brought one single bank investigation to trial for the looting of the American people and bringing on the worst damage to our economy in decades. What are they going to do to these traders, take their ketchup away?
Then there was the State Of The Union speech. I have been reading the
transcript
. It sounds really exciting, at least the President came out with a lot of ideas. Oh yeah, then there's a little problem with the darn deficit and the budget and we're too broke to spend any money on SOME Americans. Like the ones who aren't defense contractors or don't own health insurance companies. You know, people who don't have lobbies. I'm talking about moochers and takers.
An ex L.A. cop goes
wild
, along with the L.A. cops, who shoot some innocent people in a van delivering newspapers, who don't even fit the crazy ex-cop's profile. Come to find out that said ex cop had reported another officer kicking a homeless
person
, which he believed ultimately led to his dismissal.
I'm not sure if it's duplicity, deceit or just outright lies. Nothing can be taken at face value anymore.
There's a lot of confusion when words don't match actions, especially when it comes to government and religious institutions. This is why people just don't pay attention anymore. You have to take to sleuthing, like freakin' Emma Peel from The Avengers, because all you get is some sugar coated version of really complicated issues. Most people don't have time or the critical thinking skills to question shit that just doesn't make sense. I wonder how anything will ever get better, when people still believe the lies and BS we are fed by the MSM? No wonder people just give up and watch Fox and Friends. It's easier to believe their lies, because the truth is way worse than you think.