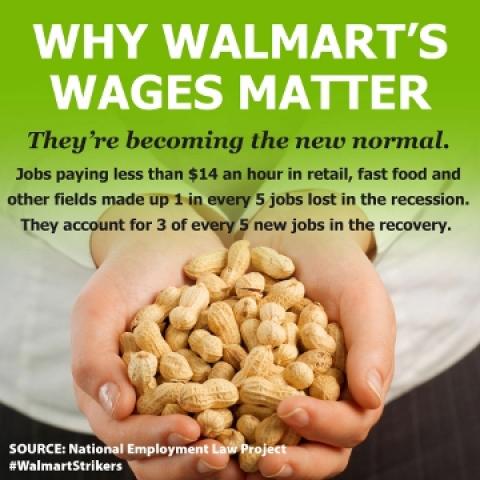 Governor Christie may have won the election, but the people of New Jersey also voted to increase minimum wage, which Christie rejected.
What minimum wage means is that if employers could get away with it they wouldn't pay you at all.
President Obama wants to raise minimum wage
to $9.00 an hour. But just like Christie, I doubt any Republican will go along with that. Whether the will of the people vote to raise minimum wage, or President Obama suggests legislation to raise it, it ain't gonna happen, plain and simple.
Income disparity is out of control and CEO's pay has never been higher. What's crazy is the high price we pay for just about everything except for peoples labor.
While President Obama might want to raise minimum wage, the government is one the leading offenders paying contractors less than $10 an hour. In Chicago, there's a labor movement called Fight For 15. They are asking for $15 an hour, sick days and other humane conditions, unless of course, you like people who are ill and contagious cooking and serving your food.
There are some estimates that if wages were tied to inflation minimum wage would be $11 an hour.
You would think at some point we would stop living in the past, paying people 20th century wages and move into the 21st century. Instead we keep going backward.
I think that a lot of fast food minimum wage employers would probably be happy going way back to slavery, it seems like that's their goal. CEO's pay is outrageous, then they take their profits and offshore them.
Then there's the argument that "job creators" will not be able to create more jobs because of higher wages. They been doing such a great job with the crap wages we are earning now, the economy is positively booming, right? Let's see is there an economy that's kicking America's ass with strong labor protections for it's workers? Why yes indeed! That would be Germany!
Germany's economy is better than ours, their workers get 35 days paid vacation and guess what? Their job creators aren't complaining about not being able to create jobs. Look around the world at the countries that have strong unions and the countries that have no unions, where would you rather live? America is just not that exceptional. Our current system is unbalanced, the result being that corporations and big banks have too much power making the system inefficient and unproductive except for the 1% with power. We need a democratic workplace. Come to think of it, we need a real democracy.
Can you imagine Americans of 1968 settling for a minimum wage standard of living that had been set based on 1924 standards? What about 1880 standards? At some point we should expect low-wage workers to start living better than they used to. - See more at: http://inequality.org/minimum-wage/#sthash.sSVewSnF.dpuf
had the US income distribution and US standards of decency remained exactly what it was in 1968, the minimum wage would now be $21.16 per hour. - See more at: http://inequality.org/minimum-wage/#sthash.sSVewSnF.dpuf
had the US income distribution and US standards of decency remained exactly what it was in 1968, the minimum wage would now be $21.16 per hour. - See more at: http://inequality.org/minimum-wage/#sthash.sSVewSnF.dpuf
had the US income distribution and US standards of decency remained exactly what it was in 1968, the minimum wage would now be $21.16 per hour. - See more at: http://inequality.org/minimum-wage/#sthash.sSVewSnF.dpuf
had the US income distribution and US standards of decency remained exactly what it was in 1968, the minimum wage would now be $21.16 per hour. - See more at: http://inequality.org/minimum-wage/#sthash.sSVewSnF.dpuf