No Kidding
Good Grief. the witch is dead.
I am guessing there will be wall to wall coverage, on a slow news day about this vile woman.
She gave birth to a lying war criminal, who put the W in WMD's. What an absolute travesty this country is, worshiping these people.
Such an
unpleasant human being
.
Telling people about Hurricane Katrina victims being "underprivileged anyway" and living in arena's during Hurricane Katrina is "working very well for them"
Let them eat cake right Barbara?
I can't imagine how different this country would be without this family.
Especially her dimwitted, dry drunk, hyper-religious son, who led us into a war, based on nothing but lies.
No one ever mentions that.
If it wasn't for Bush, there would be no Trump.
"As democracy is perfected, the office of president represents, more and more closely, the inner soul of the people. On some great and glorious day the plain folks of the land will reach their heart's desire at last and the White House will be adorned by a downright moron." H.L. Mencken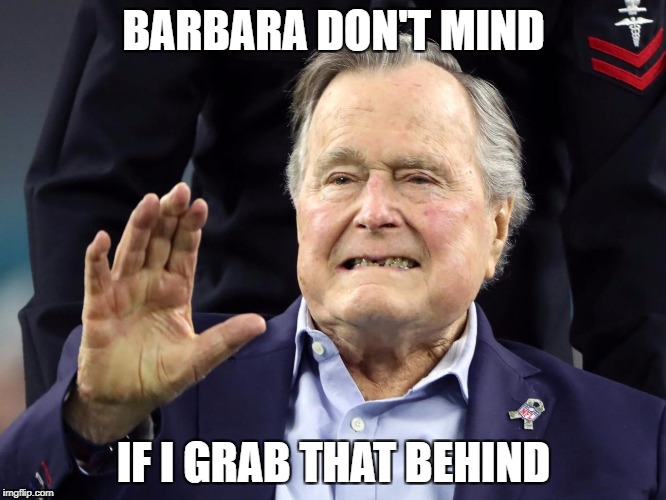 Read it and weep, because this is where we are, thanks to the Bush's and their special brand of morons.
These sacred cows that no one seems to have a bad thing to say about.
Thank God I don't have a TV, so I wont be subjected to a barrage of homage to this out of touch wife to an ass grabber.
About the only person who has anything negative to say about old Bab's is Trump's buddy Roger Stone, who called her a "
nasty drunk
."
He's no prize either, but from what I have read, he's probably right on target.
I don't know what it is here in the good old rugged individualist USA, that makes American's delusional over this family.
There seems to be a lack of context or amnesia, about how this family operates. There's going to be a whole lot of people coming out of the woodwork trying to convince us how great Barbara Bush was.
So I'll just leave you with this. Do you feel freer & safer because of George Bush?
(Doesn't matter which one)