I don't know if anyone else thought the timing of Chelsea Manning's release and
Sweden terminating a 7 year sex crime investigation against Julian Assange
was a coincidence?
I mean, how does that happen? In one week these two are in the news, only one is free and one isn't. I was glad Chelsea Manning was released, I was also glad that Sweden "discontinued" their investigation. While I think what these two people did was important, I am not sure what actually changed?
People I know, just don't care and have no idea of the particulars of Chelsea Manning and Julian Assange's legalities.
Then there's this, what in the actual......??????? I just can't.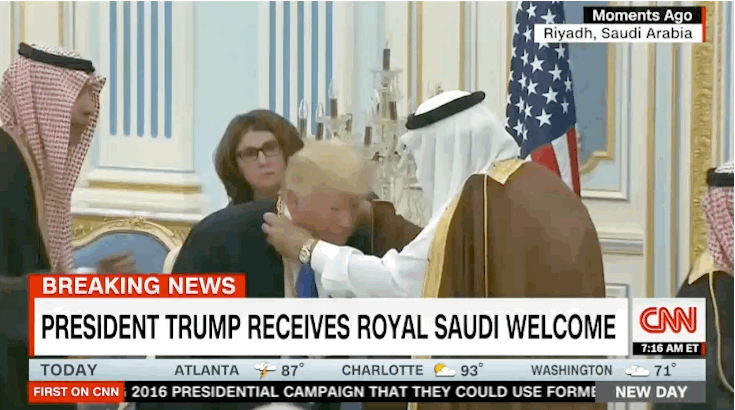 I guess he got so excited about his Art of the Weapons Deal, he just couldn't stand still and got weak in the knees.
We are still the largest exporter of war in the world.
It's sickening.
The people that exposed war crimes and publish secrets, are trying to figure out how to get on with their lives.
Meanwhile, average Americans are still struggling in an economy that continues to crumble.
Where basic needs, like single payer health insurance will never happen.
But missiles and guns and bombs? We live in a land of plenty.
We are still bombing and terrorizing countries we have no business being in.
The corporate war machine just rolls on with no end in sight.
Maybe that's the real point.
I don't know what it's going to take for our government, to stop all the war mongering and start getting into the business of getting out of the Middle East. It's completely counter-intuitive to keep going on this way. I am pretty sure no one who voted for Trump thought they would see him curtsy to Saudi royals. It's ridiculous, but not altogether unexpected.
Maybe, the only thing the Saudi's could figure out, to keep him at arms length,was to throw a necklace on him in order to avoid his crazy handshake.
One thing I totally get is what a sleazy salesman Trump is. These "state visits" are no more than sales opportunities.
Kerry did it
, so did
Obama
. However he had the decency to cancel, after the Saudi's launched a war on Yemen.
Raytheon will be making bank on this new arms deal, while they
offshore millions in taxes
.
You can bet a whole lot more people are going to die, since no one seems to have any wherewithal to tell America they don't want bombs, or any other arms America is pushing like a heroin drug dealer.
I am sure that we can expect a lot more "deals" like this one.
Meanwhile American's continue to shoot up in a
drug epidemic
, I have not witnessed
since the Vietnam War
. Don't think those things aren't connected, only it's not just veterans that are hooked. One outcome of the Afghanistan War is the
flow of heroin
. I see it everyday when I go for my daily workouts. I have decided to document the evidence.
This is where we are now. We started an illegal war, we arrested and persecuted whistleblowers for alerting us to war crimes, while we continue to wreak havoc all over the world. Selling arms, and bombing other countries while the flow of heroin and Narcodollars continues. Average Americans who are in real pain and despair are turning to this.
This is the legacy of Afghanistan and many other wars.
But hey, he's going to make America great again, curtsying to the Saudi Royal family, with some bling around his neck.