Every one is wondering about the co-pilot who crashed the plane he was flying into the side of a mountain, a mountain he knew very well. A place he had been flying over since he was 14 years old. People are in shock, wondering how this could happen? In fact it's happened
before
. It's pretty obvious to me that this dude was planning something for awhile. The big question is, how someone with a history of pretty severe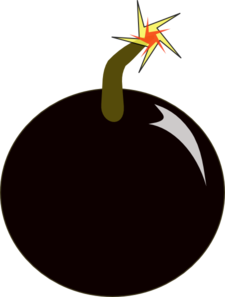 mental illness, could end up flying an airplane with 149 people on board?
If they knew that, do you think they would get on that plane?
It seems since 2009, when this man started his aviation instruction was unfit for a pilots position, because he was, mentally ill.
Co-pilot Andreas Lubitz was declared 'unfit' to fly by docs - NY Daily News
Let me put it this way, do you know, or have you known someone, that you wouldn't even get into a car with let alone pilot a plane? Maybe it's someone you work with, or your friends spouse, or a neighbor?
There are a lot of people walking around who are batshit crazy, they are flying planes too.
This guy just suffered a relationship break up, because his girlfriend thought he was "off" and wanted to get the hell away from him as quickly as possible, people are saying she should have reported him. To where? THE CRAZY POLICE? She's lucky she's still alive. They usually stalk and kill their girlfriends like they're prey.
Then there's this;
Don't blame depression for the Germanwings tragedy | Masuma Rahim | Comment is free | The Guardian
or this;
Don't stigmatise depression over Alps crash, says top doctor | World news | The Guardian
Right. If you've ever been depressed it's hard enough to function, let alone fly an airplane into a mountain. This guy wasn't just depressed. This guy is a mass murderer.
One of the worst things about this culture is that we aren't allowed to call a spade a spade, this isn't about depression. It's about psychopathy and it's dangerous. Sometimes, I think people should have warning labels, because you know, he was such a "normal guy" or a
"nice young man"
how would you ever know you are dealing with some one who is capable of going to such extreme lengths to hide the murderer lurking inside?
How many sick notes did this guy tear up? A MD in Psychiatry isn't worth the paper it's printed on if you can't save innocent lives in order to protect a mass murderer. I wonder if this guy was on the Prozac? Prozac can't do anything about a psychopath's cruel and selfish behavior, besides, these individuals rarely respond to any treatment. This guy was planning to do this and wanted to go down in infamy and didn't care who he took down with him. There are people just like him everywhere, for the most part they are stupid and inept and lazy, living like parasites off of other enablers, they usually don't kill, it's just too much trouble.
Then there's the ones that do, Adam Lanza;
The Polygon: American Psycho
and
Elliot Rodger
comes to mind, the chaos and suffering these people cause is immense, yet day after day these horror stories play out, "suddenly" and "without warning" when really, there was plenty of warning, red flags that were ignored.
I have a friend I work with, who has this uncle, I'll call him "Uncle Time Bomb". Uncle Time Bomb is the neighborhood curse, he throws kids off their bicycles if they get too close to him. He distributes religious literature that's anti abortion to his niece. If people park in front of his house he will question any one he can about who's parking there. He will walk into my friends house uninvited. When neighbors see him coming, they scatter. No one wants anything to do with him. This man was discharged from the military for throwing a man against a wall and breaking his back. No one knows if he was ever brought up on charges, they are too afraid to ask. The cops have been called multiple times about his behavior. It's just a matter of time until this guy goes off. The thing about Uncle Time Bomb is that you can see his crazy, others aren't so easy to see. People like him are on
Craigslist
, Online dating sites, Facebook, they are everywhere. Unfortunately we don't teach people the signs that you may be dealing with a psychopath in real life. They aren't all mass murderers, they "may" be a small part of the population, but chances are you've encountered one, they are very clever and devious about hiding who they really are inside. Until a particularly strange episode in the psychopaths life occurs they are really hard to identify. Maybe no one could have stopped Andreas Lubitz from flying a plane with 149 innocent people into a mountain, but knowing the warning signs of these dangerous individuals can save your life and sanity. Obviously psychiatrists and law enforcement won't save you. Remember, the police believed
Jeffrey Dahmer
.
The List of Psychopathy Symptoms: Hervey Cleckley and Robert Hare | Psychopathyawareness's Blog
Puzzling People: The Labyrinth of the Psychopath: Thomas Sheridan: 9781905605286: Amazon.com: Books