It's pretty clear to me that President Obama can't get anything done in this
country
, so lets go back to Iraq.
There are plenty of people who think Hellfire missiles are the way to go and bombs away! Don't get me wrong I'm no fan of ISIS or ISIL but didn't we
give them weapons
in the first place? Let's extrapolate this to when we armed Afghan rebels way back,
Operation Cyclone - Wikipedia, the free encyclopedia
Which gave birth to Al Qaeda, and you know the rest. A couple of weeks ago I was reading about Chuck Hagel, who made an
arms deal with Turkey
. That's no accident, Turkey is going to play a major role in this new/old conflict.
Why does it seem like we are caught up in an endless circle jerk? We pedal weapons or just give 'em away like candy and what do you know? People get carried away shooting, raping and pillaging and the next thing you know it's time for more bombs and "advisers." Don't blink because if you do there will be boots on the ground. Not shocked that this is going down again.
Billions of dollars and ten years spent training Iraq forces to control their own country. Only to discover that isn't working out, which really, it's our fault, all of it.
I don't know, but I am just going to throw it out there that there was a disappointing
jobs report
two days ago. Fast food jobs ain't cuttin' it anymore and those people are striking for $15 an hour. The economy is stagnant. People are either pissed off or mired in their own misery. They don't give a damn about Iraq, they don't even understand what's going on outside of the Fox News channel in their living room. They are exhausted from working two or three jobs.Then you have this;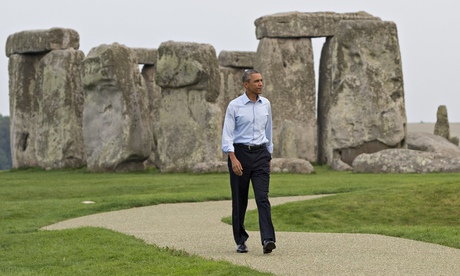 Pic nicked from The Guardian
The President decided to go see Stonehenge while at the
NATO Summit in Wales
. Putin is out of control and I am so sure all these NATO countries are going to pony up and start
chipping in
so they can bankrupt their countries with endless conflict. I don't have a problem with the President sight seeing. But he needs to open his eyes and look at his own people, his own country. I guess the view is better at Stonehenge.