Whatever you do, don't have a miscarriage in Ireland. Whether you, personally are Catholic or not, you can't have an abortion. Even if it's medically necessary. Even if it would save your daughters life, your sisters life, your wife. The lives of women are worth less than an unborn fetus.
There is going to be an
inquiry
investigating how this woman could have died of blood poisoning, being repeatedly refused an abortion, after having been told her 17 week old fetus would not survive.
It sounds like the Catholic Taliban is running Ireland.
This is just another example of how deadly religion can be.
The woman who died, her name was Savita Halappanavar. She was of Indian descent. Guess what? Not a Catholic! That doesn't matter. She might have been better off going to Belfast. Belfast does have an abortion clinic. However the Abortion Act of 1967, does not extend to Northern Ireland. If you need an abortion, get the hell out of Ireland. They really go Medieval on it.
Methinks there is going to be a great big lawsuit over this. But will anything actually change? It sounds like Rick Santorum is the Chief of Gynecology and Obstetrics over there. How many woman have died in this country of Catholics, because they medically needed an abortion? I wonder if any women will be in the "independent investigation"? Since it's a "Catholic country" I guess only Catholics will be investigating. Sounds ludicrous, but there you have it. Science and Biology don't seem to count for much, since religion and the sanctity of the womb, trumps sanity. Withholding medical treatment on religious grounds, usually, this happens when a parent prevents their child from receiving medical treatment. In this case, the patient requested medical treatment and was denied by the doctors, in a wierd religious reversal, that cost this woman her life. Maybe some doctors will lose their jobs, maybe the hospital will lose a lot of money. Because of their inaction a family lost a daughter, a wife, a sister, a niece. A 17 week old, non-viable fetus, was more valuable than the life of this woman.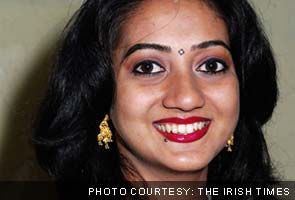 RIP Savita