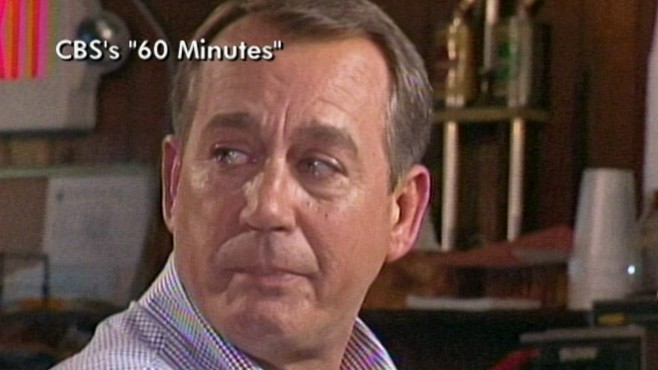 It should be painfully obvious by now that the Fright Wing can't get their sh*t together. In another moron move by clown car driver Boehner, he introduced
"Plan B"
. I like how Republicans can have a "Plan B" but women who need emergency birth control to avoid an unwanted pregnancy, can't have a "Plan B" as an option. So, in order to try to avoid an unwanted fiscal cliff, Boehner and Cantor assured everyone they had enough votes for their "Plan B" which did not have enough spending cuts for Paul Ryan, since Boehner is desperately trying to save all of those government defense contracts for all the lobbies paying him, they were not a part of the plan.
Now all we have to do is wait for the fiscal cliff to go into effect on Jan.1st, then the middle class tax cut bill will be introduced and the Rethugs will have to vote for that since that's the only thing they will vote for. (usually for the top 2%).
According to what I read in the
Guardian
, Boehner was "publicly humiliated" by his own party. He is living in some delusional world, where he can just throw down and everyone in his fractured fairy tale just goes along with it. I seriously don't know what he hoped to accomplish with this latest stunt, other that to make himself a laughing stock. He's been one for a long time, but now it's just getting worse.
This bill, according to what I read was a way for Republicans to cover their asses so when the Bush tax cuts expire, they could say they tried, but uh, well, they didn't. This reminds me of the old Churchill quote about "Americans will do the right thing, when they have exhausted all other measures" Only Republicans don't care about doing the right thing. They just do their thing, then they'll throw the middle class, the poor, seniors, the sick, veterans, you name it, under the clown bus they drive.