The week started out for me watching Ken Burns much hyped The Vietnam War series. All I can say about it is wow. I don't know where Burns has been for the last forty years, but his interpretation of The Vietnam War is so far from reality, I just couldn't stomach it.
I got to the second episode and couldn't take anymore. It's just one big mistake according to him and no mention of the why; the
Gulf of Tonkin incident
, which we now know did not happen, not the way the propaganda at the time said it happened. It was funded by Bank of America, which I should have known then, what direction this thing was going in.
Not going to watch 18 hours of that drivel. But it's a good job of white washing history, if that's what you like, being told fairy tales and outright lies isn't my thing.
I grew up with that war and it seems to me there has been very little time in my life not living with some fearsome enemy, only now it's on steroids. I can go to bed at night after seeing Kim Jong-un's missile videos, then in the morning, when I get up, Dotard Trump's missile videos and not to be outdone, Iran shows a missile video;
Another video, really?
Seriously, I wonder who else has some footage for another missile video?
What's going to be the newest Gulf of Tonkin incident, for the next excuse for a war?
Don't we have enough going on?
From what I understand Puerto Rico has no electricity and a dam that has failed, affecting thousands of people, but what's the big story?
Trump cussed out a football player and now there's a big rebellion by the NFL.
Dotard has NOT been able to do anything since he got elected but tweet.
It's all a big distraction to cover his fail of an administration.
I guess that's a good thing.
Then there's the dog and pony show of the repeal and replace or the just repeal and not replace that these criminals in DC keep wasting time on, so they look like they are doing something.
They don't have the votes, but that doesn't matter, because Lindsey Graham is bad at math, so he's going to try again and probably fail. All of these elected officials are paid handsomely by the health insurance industry. Nothing's going to happen. They should just show us a video of John McCain with his thumbs down vote and save a lot of time and energy.

On Monday, the Senate passed a $700 billion military spending bill. I'll just let that sink in.
I guess we've got to replace all those bombs we've been videoing and dropping on people all over the world. That's what we do.
You know what we don't do? Medicare for all or free tuition for college. Nope.
This is why we can't have nice things.
Then there's rumors of Dotard's
tax plan
that he'll be making a speech about in Indiana, this week. This plan is supposed to, wait for it..."heavily benefit high income taxpayers," such a surprise.
I'm not holding my breath for anything when it comes to the idiots in Washington, but if they can find a way to help their rich benefactors, this might be the only legislature that actually passes, besides the billions of dollars given away, to the black hole that is known as the Pentagon. It's another speech I won't watch, like the one Dotard made at the UN, threatening to annihilate millions of people.
I guess tomorrow will start another week of MSM propaganda missile videos or Dotard's tweets, so we can get caught up in a massive game of chicken. No thanks. Both of them are
Dotards
.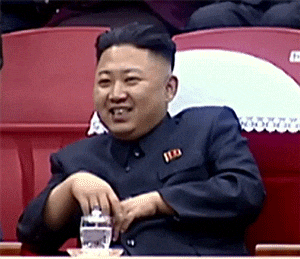 Better get busy on the next video Kim.